Extra, Extra… Abby Speer takes the Virtual Stage!
One of MRP's own youth performers, 7th grader Abby Speer (daughter of Randy and Heather Speer), is about to take the national stage in Disney's first live virtual musical production, Newsies.
Abby plays the character,Elle, who is a newsie ( hawks newspapers).  Elle's background is like many orphans in the late 1800s in New York City.  Abby says her character's mother died in childbirth, and she was raised by nuns until she could support herself.  Selling newspapers is not an easy job, and Elle is not very good at it.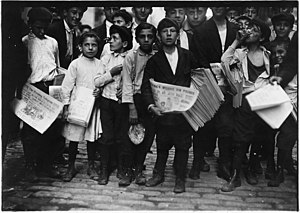 The show, Newsies, has a historical background.  In order to sell newspapers to the masses, Joseph Pulitzer and William Randolph Hearst created yellow journalism (sensationalism).  When circulation was down,
Pulitzer decided to increase the price to the newsies from $.50 to $.60 per 100 papers.  As a result, the newsies went on strike in 1899.  After two weeks, Pulitzer came to an agreement; while the price remained at $.60, the papers would buy back what they could not sell.  This was considered a win for the newsies
Abby auditioned online for Actor's Technique (ATNY) during Labor Day weekend.  She had to prepare a part of a Disney or Broadway song, dance a choreographed piece, and participate in theater games.  She received the good news that she won a part three weeks later.
Since then, Abby has been working weekends learning the songs, dances and dialogue.  As an ensemble player, Abby is in a lot of scenes.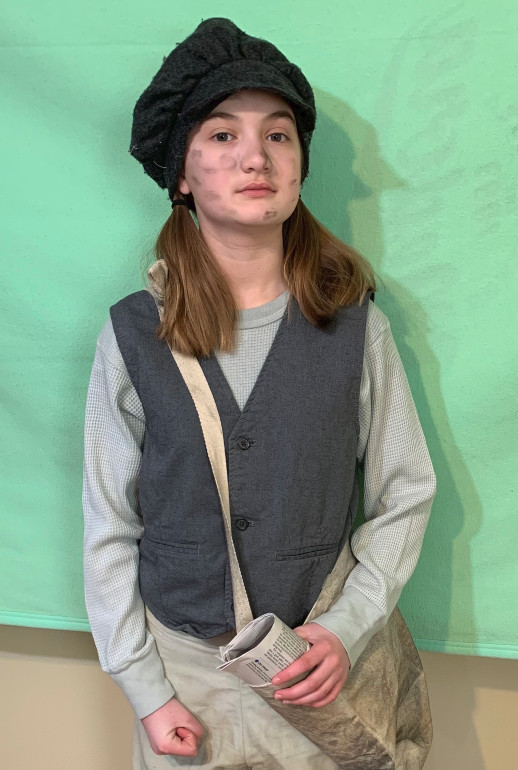 One of the biggest challenges of working on a virtual musical production is singing and dancing by yourself in front of a green screen.  She says it is hard to get into your character when you can't feed off the energy of the other actors.  The second challenge, she was required to learn the nasal New York accent to create a tough kid.
Abby says working with a cast from all over the country, and receiving direction from a Broadway producer and choreographer has helped her learn so much.  The tech programs that help the cast sing together and change the backgrounds are new experiences.  For example, the major fight scene is created by the director: run, fight and turn off video; repeat.
Abby wants to say, "Thank you MRP for all your support in the last three years."
MRP says, "We are so proud of you!" 
Newsies Tickets On Sale
NOTE:  The times are all in Eastern Time zone.
-Sunday January 3rd – 6:00 pm
-Saturday January 9th – 7:00 pm
-Sunday January 10th – 2:00 pm