Join us as we explore the history of Mouse River Players through some of our most memorable productions of each decade!
Dirty Work At The Crossroads
September 17-19 and 24-26

This play tells in laughable style the tear jerking story of Nellie Lovelace, an innocent country girl. Munro, the viper, has a wife in Ida Rhinegold, belle of the New Haven Music Halls, but that does not prevent him from pursuing Nellie and tearing her from the arms of her dying mother (whom he has poisoned). Nor does it prevent him from driving Adam Oakhart, the blacksmith's son, to drink, from blackmailing rich Mrs. Asterbilt, or from bewitching her daughter, Leonie.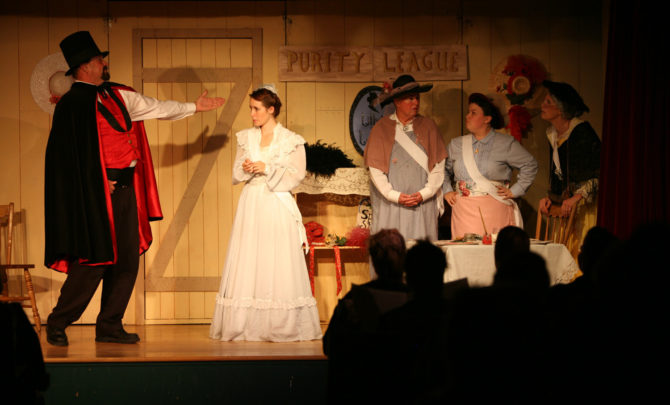 by Lewis Carrol, adapted by Brainer Duffield

Alice plunges down the rabbit hole and becomes involved in that madcap and deliciously satiric series of adventures immortalized by Lewis Carroll. Dramatized as a series of fourteen episodes from Alice in Wonderland and Through the Looking Glass, this play may be produced as a full-length or as a one-act cutting. A kaleidoscope of action and madness, with the necessary elements of suspense and frustration to make it all work.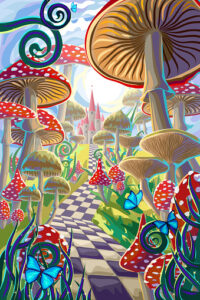 by Frances Goodrich and Albert Hackett

In this transcendently powerful new adaptation by Wendy Kesselman, Anne Frank emerges from history a living, lyrical, intensely gifted young girl, who confronts her rapidly changing life and the increasing horror of her time with astonishing honesty, wit, and determination. An impassioned drama about the lives of eight people hiding from the Nazis in a concealed storage attic, THE DIARY OF ANNE FRANK captures the claustrophobic realities of their daily existence—their fear, their hope, their laughter, their grief. Each day of these two dark years, Anne's voice shines through: "When I write I shake off all my cares. But I want to achieve more than that. I want to be useful and bring enjoyment to all people, even those I've never met. I want to go on living even after my death!" This is a new adaptation for a new generation.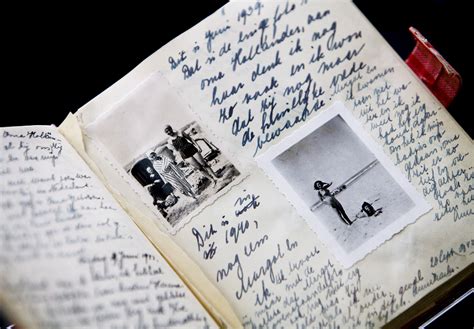 Galloping in and out of the four doors of an English vicarage are an American actor and actress (he is now stationed with the Air Force in England), a cockney maid who has seen too many American movies, an old maid who "touches alcohol for the first time in her life," four men in clergyman suits presenting the problem of which is which (for disguised as one is an escaped prisoner), and a sedate Bishop aghast at all these goings-on and the trumped up stories they tell him.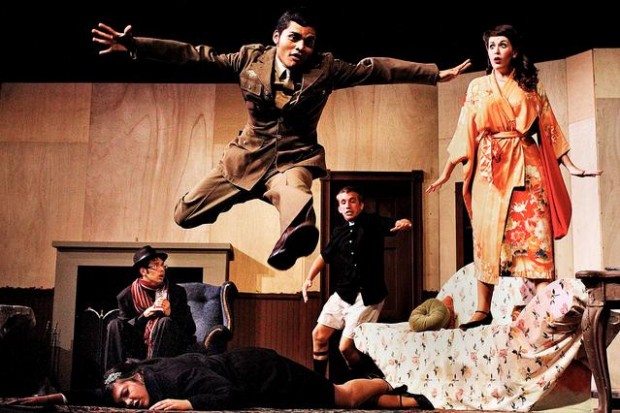 by Tom Chiodo, Peter DePietro, Wayne Barker, Galem Blum, Vinnie Martucci

The internationally popular game is now a fun-filled musical that brings the world's best-known suspects to life and invites the audience to help solve the mystery: who killed Mr. Boddy, in what room, and with what weapon. The audience receives forms to help them deduce the solution from clues given throughout the fun-filled evening.